Services Provided
• Korean Interpretation at Depositions
• Korean Interpretation at Court Trials
• Korean Interpretation at Conferences (Technical and General Topics)
Enunce LLC is a professional Korean translation company located in Fairfax, Virginia, staffed with experienced Korean court interpreters and technical translators. We provide interpretation services for legal professionals in the greater Washington DC area.
If you are looking for a Korean interpreter for a courtroom trial, deposition or another type of meeting, please contact us with the details of your requirement (date/time, location, expected duration, etc.).
A full description of our legal translation services can be found in our Korean Legal Translation Services page.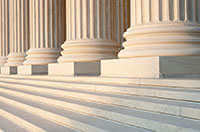 We do not charge a travel fee for appointments at locations within 20 miles of our office (Fairfax, Virginia) in the Washington, DC area, such as Arlington, Alexandria, Reston, Leesburg, Manassas and Woodbridge.
Since 2007, we have provided top-quality language services (document translation / interpretation) to national and international customers as well as customers in our local area (Washington DC, Virginia and Maryland).